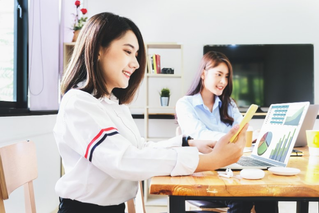 Please note that you will be re-directed to Skills Training & Enhancement Portal (STEP)* to sign up for SIRS courses using your SingPass.
Valued at $12 billion worldwide*, the affiliate marketing industry is growing immensely as more brands and individuals jump on the bandwagon. Globally, over 80% of brands use affiliate programmes* and the number is on the rise as it gains popularity with the introduction of new technologies, platforms, and trends.
Affiliate marketing is the easiest and quickest way to start selling and earning at zero cost! When done right, an affiliate marketer can build a steady stream of income by promoting affiliates' products and earning commissions. Strategise and develop efficacious affiliate marketing campaigns to start your own business or as a source of passive income in this two-day workshop. Besides learning winning concepts, frameworks, techniques, and platforms you can leverage for a successful affiliate marketing experience, you will also discover ways to partner with merchants and implement effective strategies to drive sales and generate income!
*Data source: https://www.enterpriseappstoday.com/stats/affiliate-marketing-statistics.html
No intakes available
Please check back later.
Singapore Institute of Retail Studies
Course intake schedule information
Day 1 & 2 - 9AM to 6PM
Day 3 - 2 hrs of Asynchronous E-learning
Singapore Institute of Retail Studies
Course intake schedule information
Day 1 & 2 - 9AM to 6PM
Day 3 - 2 hrs of Asynchronous E-learning
Singapore Institute of Retail Studies
Course intake schedule information
Day 1 & 2 - 9AM to 6PM
Day 3 - 2 hrs of Asynchronous E-learning