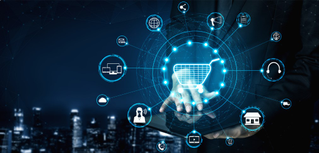 Please note that you will be re-directed to Skills Training & Enhancement Portal (STEP)* to sign up for SIRS courses using your SingPass.
Setting up an online store has become an increasingly popular way of reaching out to more customers as part of digitalisation effort by businesses. Just like traditional retail, you need a sound strategy to create your online presence and stand out among the competition.

Many decisions add up to your online success – choosing the right platform for your product sector, selecting the right products to sell online, setting the right price and having a customer engagement strategy. Your online success depends on having a well thought out plan.
This programme includes 16 hours of classroom learning and 56 hours of on-the-job training where you will be assigned to a personal mentor and be individually guided through the intricacies of selling online. At the end of three months, you will be able to manage your online business with confidence!
No intakes available
Please check back later.
|
Set up your online store on Lazada, Qoo10 or Shopee and start selling on the platform of your choice
Receive customised consulting in designing a business process and Standard Operating Procedures (SOP) for your online business. Plan out SOP on fulfilling orders, answering customers enquiries and aligning business practices to support online sales
Discover what product catalogue management is - learn to curate products that can be effectively sold online, review and refine product selection over time
Learn best practices on creating content for product listing including writing effective product listing, briefing photographer on product photography, reviewing content and boost sales
Bonus: Professional product photography for up to 20 products included!
| Category | Price |
| --- | --- |
| Full Fee | $10,800 |
| Singapore Citizen0 (70% funding) | $3,210 |
| Singapore Citizen 40 years and above0,1 (90% funding) | $1,210 |
| Singapore Citizen sponsored by SMEs0,2 (90% funding) | $1,210 |
| Singapore PR (70% funding) | $3,240 |
| Singapore PR sponsored by SMEs2 (90% funding) | $1,240 |
This course is also eligible for the following:
For self-sponsored participants:
For company-sponsored participants:
For more information about funding and support, click here.
All applications will be evaluated to determine their suitability for admission into the programme. The outcome of all applications will be communicated to applicants before the start of the earliest available intake subjected to submission of the required supporting documents and the minimum enrolment to start a class.