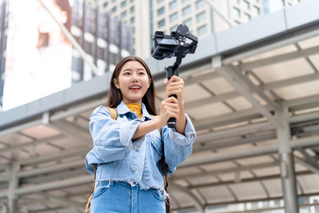 Please note that you will be re-directed to Skills Training & Enhancement Portal (STEP)* to sign up for SIRS courses using your SingPass.
Conduct a quick search online now, and you will find YouTube as the second-most popular platform for search engines and social media. There are 2.6 billion* active YouTube users who watch 1 billion* hours of videos daily, and 90%* of them say they discover new brands or products through the platform - it is no wonder that businesses and individuals are actively uploading 720,000* hours of video every day on YouTube to interact and engage with their community!

You can become a successful YouTuber with a well-thought-out strategy. Through a step-by-step process in this workshop, you will create engaging video content to captivate your audience and enhance their level of engagement to help you boost your earning potential on the world's biggest online video platform. No matter your business industry, job role or purpose, there's a place for you on YouTube!
*Data source: https://sg.oberlo.com/blog/youtube-statistics
No intakes available
Please check back later.
Course intake schedule information
29/3/2023 4:00:00 PM +00:00 - 1/4/2023 3:59:59 PM +00:00
Course intake schedule information
25/7/2023 4:00:00 PM +00:00 - 28/7/2023 3:59:59 PM +00:00
Singapore Institute of Retail Studies
Course intake schedule information
14 September 2023 - 9AM to 6PM
15 September 2023 - 9AM to 6PM
16 September 2023 - 2hrs of Asynchronous E-learning
Singapore Institute of Retail Studies
Course intake schedule information
19 Sep 2023: 9AM to 6PM
26 Sep 2023: 9AM to 6PM
27 Sep 2023: 2hrs of Asynchronous E-learning