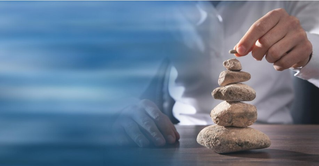 Please note that you will be re-directed to Skills Training & Enhancement Portal (STEP)* to sign up for SIRS courses using your SingPass.
Stress and fatigue are a common experience among the working population with the modern lifestyle and more so during and after the pandemic. An average person will spend at least 90,000 hours* working over a lifetime - that is one-third of our lives! While technology enables us to work anytime and anywhere, the lines between our career and personal lives are gradually blurring. More people are finding it difficult to 'unplug' and inevitably bring their underlying state of wellness to work, affecting job performances.

Improving physical and mental wellness can help us become more productive and inject positive vibes into our workplace to foster better relationships with colleagues, business partners, and customers. Learn to be the best version of yourself through this workshop guided by Lionel Lim, a multiple award-winning Personal Branding Speaker and a Master Trainer and Sports Nutritionist featured extensively on international and local media platforms. Discover practical hands-on activities and holistic wellness strategies you can adopt to look and feel good inside and out, boost self-confidence and develop a positive mindset for a resilient you!
*Source: https://www.gettysburg.edu/news
No intakes available
Please check back later.